The permissions dialog will not display all the permissions; rather, some will be summarized under "Access your data on 19 other sites". On this page, you will find information about these permissions and why they are required.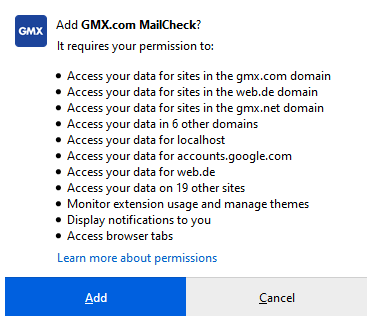 By clicking on
Add
, you consent to the permissions and install MailCheck in Mozilla Firefox.
Why do I need to consent to all permissions?
Mozilla Firefox itself determines the appearance of the permissions dialog window. Some of the permissions are always required for using MailCheck. However, most need to be confirmed by the user only if they are actually used. Unfortunately, the latest versions of Mozilla Firefox equally prompts all permissions when installing MailCheck, irrespective of whether they are actually used or not later on.
Why are the permissions needed?
These websites and their associated subpages are required for configuring and managing your email accounts and for enabling access to your mailbox:
web.de
gmx.de
gmx.net
gmx.at
gmx.ch
1und1.de
1and1.com
uilogin.de (required for login with very old versions of MailCheck)
For each brand, there is a subpage that is used to provide updates for a particular version of MailCheck (e.g., the page dl.web.de). Unfortunately, there is no way to control whether Firefox explicitly lists these subpages in the dialog or categorizes them under the other pages.
These websites and their corresponding subpages by Google and Outlook are required to configure and administrate email accounts and to allow mailbox access to Gmail and Outlook:
google.com
mail.google.com
googleapis.de (login with Gmail)
google.de (.at/.ch/.co.uk/.es/.it/.fr/.pl/.ro)
accounts.google.com
live.com (Outlook)
Additional permissions that are required for using MailCheck in the browser:
Monitor extension usage and manage themes: Required since GMX offers add-ons with similar or identical functions. To prevent conflicts between them, it must determine whether other add-ons are installed.
Display notifications to you: Required to display notifications about new emails. This function can be optionally (de)activated in the MailCheck settings.
Access browser tabs: Required to determine whether one of your mailboxes has already been opened in a tab. Afterwards, this mailbox will not be reopened in a new tab; rather, the existing tab will be brought to the foreground.
Access to localhost is needed because the MailCheck settings in your browser are opened as a local page.